Eye care professionals specialize in understanding how the human eye really works, as well as diseases and conditions that affect your vision – many of which do not have obvious symptoms. Eye doctors know how age and risk factors affect vision over time for young and old, and they understand the benefits and features of corrective lenses including eyeglasses and contacts.
Our optometrist takes the time to explain the results of your eye exam, describe your options and listen to your eye care needs. Because maintaining good eye health is an ongoing partnership, we encourage you to ask questions and share your health information, which could be vital to monitoring, diagnosing and treating potential vision problems.
Meet our doctors:
Dr. Holly J. Vaught
Optometrist
Dr. Vaught graduated from the Indiana University School of Optometry with honors in 2009. While there, she was Vice-President of the Indiana University Optometric Student Association (IUOSA), Vice-President of the Gold Key National Optometric Leadership Society, a four year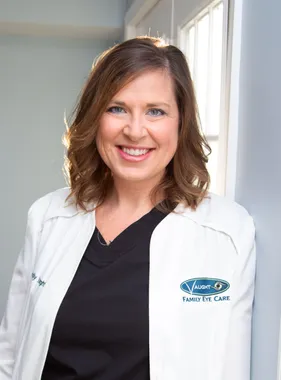 member of Beta Sigma Kappa National Optometric Honor Society, and an active member in Voluntary Optometric Services to Humanity (VOSH).
Dr. Vaught did her optometry training at John Kenyon Eye Institute in New Albany, IN and Louisville, KY and The Richmond Eye Center in Richmond, IN, with concentration in diagnosis and treatment of ocular diseases, such as glaucoma, cataracts, macular degeneration, and diabetic retinopathy. She also did training in the Optometry and Ophthalmology wings at the hospital on Keesler Air Force Base in Biloxi, MS, with concentration in primary care and pre-op and post-op care for refractive surgery procedures.
She completed her undergraduate studies at Hanover College in Hanover, IN, where she graduated with honors in 2005. She received a bachelors degree in Biology. While there, she was involved in many campus activities, including being a four year member of Phi Mu.
She is a member in good standing of The American Optometric Association, the Indiana Optometric Association, and Women of Vision.
Dr. Vaught currently lives in Franklin, IN with her husband, Adam and her sons, Turner and Mason. She is very involved in her community, currently serving as the President of the Board of Directors for the Boys and Girls Clubs of Johnson County. In her free time, she enjoys riding roller coasters, spending time with family and friends, and watching her kids play sports. You can contact her with any questions or comments at [email protected].
Dr. Paul Janis
Optometrist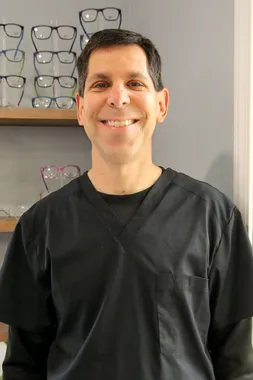 Dr. Paul Janis is a 1992 graduate of the Indiana University School of Optometry. After graduation, he joined Phil George, OD and became a partner in his Franklin optometric practice. He has remained in private practice, serving the community for 31 years, and joined Vaught Family Eye Care in 2023.
Dr. Janis was also an adjunct clinical professor for Indiana University from 1993-1997. He is a member of the Indiana Optometric Association and the American Optometric Association.
He lives in Franklin with his wife Rita, and has two daughters, Kelly and Cara.

Dr. Diana Christensen
Optometrist
Dr. Christensen obtained her undergraduate degree in nutrition and dietetics because she knew that a background in integrative medicine would
give her a baseline for understanding the body as a whole. And in 2008, she graduated from the Indiana University School of Optometry (IUSO) and began her work as an Independent Doctor of Optometry at Christensen Eye Care inside Sam's Club Optical in Bloomington, IN. In 2015, she was awarded Sam's Club's Optometrist of the Year for innovations in eye care technology, including dry eye treatment.
Originally a Florida native, Dr. Christensen feels that it's essential to bring a feeling of sunshine everywhere she goes.
When I'm not working, you can usually find me working out, meditating, or listening to a good podcast. I'm an explorer and outdoor enthusiast at heart, and you can find me doing all the things — walking, running, biking, mini-marathons, paddle boarding, literally doing any sport. I also love spending quality time with my family — my teenage twin boys, husband, and mini golden doodle, Zoey.